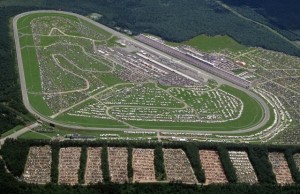 This weekends race takes us to the Pocono Mountains at Long Pond.  This speedway is considered a tri-oval, however the corners are so severe it is more like a hairpin road course.
This is the second race at Pocono in the last eight weeks.  A story published today by Brant James of Yahoo Sports, indicates that owner Dr. Joseph Mattioli may be willing to give up one of their dates.   See story here.
Let's look at who is going to show their stuff this weekend.  Denny Hamlin has won the last two races at Pocono Speedway and always seems to have a good handle on this track.   However he has only one top 10 finish in the last 5 races.  Perhaps he can pull out his old magic this weekend.
Tony Stewart's last 3 finishes have resulted in a victory,  a 10th place finish and a 3rd place finish.  Tony is always tough, but this might be one of his better tracks.
However, my pick for the weekend is Juan Pablo Montoya.  Not only is the firecracker Colombian  coming off a weekend of complete heartbreak at Indy,  but has had some really respectable finishes.  In 2009 he had a 3rd and an 8th and this year's June race he finished 8th.
I'd like to finish off this blog with some thoughts surrounding Jack Roush's plane crash that occured this week.  It got me thinking about the future of NASCAR.   How different would the sport be if we  had lost Jack in that crash?  Would Roush-Fenway racing continue and if it did, for how long?    This then led me to thinking of Richard Childress, Rick Hendrick and Roger Penske.  Richard Childress is 64 years old, Rick Hendrick is 61 and Roger Penske is 73.  How long are they going to be able to head up their companies?  And when they do retire, who will take over the reins?  Will they have to go to the corporate partnerships like Petty-Gillette?  How profitable, especially in this economic climate, is owning a race team?  As everything in life, nothing remains the same.  Out goes the old, in comes the new.  I'm just a little concerned of what the 'new' will be.
And finally, to all of Jack Roush's family, employees and friends, I am so thankful and relieved he is OK!  Thank goodness he is tough as nails!!