Attendance at the Brickyard 400 was down about 100,000 people. Its difficult for racing enthusiasts to attend these races in today's tough economy. Unfortunately, viewership was down as well. Where are all the race fans going?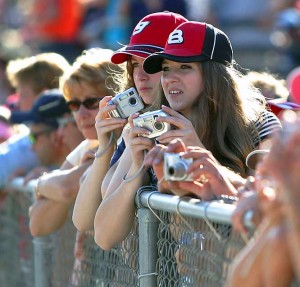 Most households in the country are a 2 income family.  All it takes is for one of those incomes to go away to create a family budget crisis.  And lets face it, it's expensive to go to a race. Between ticket prices, airline tickets, hotels rooms, food and souvenirs, it could cost a family of 4 upwards of $2000 or more depending on how close you live to the race. When the mortgage needs to get paid, that entertainment is an easy decision to cut.
I've been to the Daytona 500 eight times in my life. My last trip was in 2007 and I have to say that I was extremely disappointed with my view of the track. My father had tickets 10 rows up behind the flag stand for 30 years. Granted these weren't Winston tower seats, but they were always pretty darn good. I watched live as Dale Earnhardt won his only Daytona 500 and shared in the joy of that win with him, the crews and spectators. In 2007 the only view I had of the track was turn 4 and turn 1 and watched the rest of the race on the monitor. In the years between 2004 and 2007, DIS built so many tall buildings in the infield that it now obstructed spectator's view. My father gave up his tickets after the 2007 race, which is just a small sampling of what is happening with attendance. There were many reasons why he gave up those tickets, some of those being the price to park his motorhome, the ticket prices and of course his view of the race.
So why is viewship down? I am a diehard race fan, I never miss a race, much to the shagrin of many of my friends and family as I am not available for activities when there is a race on. But I have to say, some of the races really do bore me to tears. I hate to say that, but it's true. I am not a fan that wants to see wrecks, but I am a fan that wants side by side racing, multiple lead changes and photo finishes. Some tracks, (I won't mention who), only provide racing that is single file, spread out where almost every driver on the track can't see the car ahead of them. This is not exciting for fans and I can't imagine it's very exciting for the drivers either.
In addition, I also believe the COT car has diminished individual driving styles. I absolutely love the safety features of these cars, but I don't like the bump stop setups. This set up seems to force all drivers to take the corner the same and god forbid you have to make adjustments. A 1/4 pound air adjustment can take a car that was pushing a little all the way to wrecking loose.
I hope to see this sport thrive and I know NASCAR is trying to make it better. But to truly make it better, ticket prices need to come down, go back to allowing teams to develop their own cars (within the rules of course), put more short tracks on the schedule and make sure that all spectators can see the whole track when in attendance.