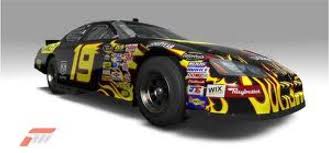 Yesterday turned out to be one of the most exciting days that I have had for a really long time!  I won full garage and pit passes to the last race of the Chase at Homestead Miami courtesy of Brett Griffin (spotter for Sadler), Elliott Sadler and the whole 19 team.   I can't tell you how shocked, excited, overwhelmed and in disbelief I was!  Here is how it went down…
I work from home for a contracting company doing IT Application Support and deployment.  It hasn't been the most fun of jobs as of late due to my contract coming to an end in January after 6 years.   The last months I have been doing all the tasks to EOL (end of life) the application I support, thus EOL'ing my own job.  That feels really weird and is just down right depressing.  With the economy the way it is and the heavy competition for jobs has put me in the "oh crap this really sucks" frame of mind.  So as I sit at my home desk contemplating the next steps to put this project to bed, I am monitoring my twitter account.  Brett Griffin tweets: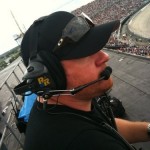 "Lotta y'all either live close to Miami or you wanna go to Miami. Stay tuned. 19th correct answer at 3:30pm wins em. Fri – Sun passes."
Well, I don't live close to Miami at all, but who doesn't want a chance at garage passes?!
I've participated in a lot of these ticket/pass give aways this year and of course have never won.  In fact, I always feel like I have the worst luck in any games of chance!  But it is always fun to try and this day was no exception.   Right before 1:30pm MT, my brother called. ..
bro: "Hey, whatcha doin'?"
me: " Oh getting ready for a trivia contest on Twitter to win passes to Miami"
bro: "Who's giving them away?"
me: "Brett Griffin the spotter for Sadler"
bro: "Feeling lucky today?"
me: "Oh right…I never win anything, but it doesn't hurt to try I guess"
bro: "Yea, you don't get what you don't ask for!"
me: "Ok, the question is coming.  Brett just tweeted  'Y'all ready? Answer is gonna be six numbers… Gotta get all 6 correct to win. DO NOT PLAY IF YOU CANT COME!' "
bro: "Six numbers huh…what could it be…not a zip code, that's 5″
me: "I don't know..we will just have to wait to see the question"
We chat it up until the question comes…
me: "Ok, here is the question: 'Elliott turned the fastest lap since the COT has been introduced. Pole @ Texas Motor Speedway last Friday. What was his lap n miles per hour' "
bro: "Hurry up and google it up"  (not the savviest at all things computer related LOL)
me: "I am, I am!  Ok, I think I got it.  Its 195.397″
bro: "Really!  Cool!"
me: "I have to be the 19th correct answer so from past contests I see people tweeting multiple times to try and hit it. "
bro: "How many times have you tweeted it?"
me: "4…I will do 2 more.  It's been long enough there has to be 19 correct answsers by now.  Everyone is so fast!"
me: "Ok, all we can do now is wait for him to announce the winner"
We chat it up while I monitor my twitter account… THEN….
Brett tweets: RT @trackdebris @19Spotter #19contest 195.397 is the winner…@tendrepat is on deck and @MDBACH is 3rd in line if she declines…
I read that tweet like 3 times before I could comprehend it…then.
me: "Oh my god!"
bro: "What?"
me: "Oh my god!"
bro: "WHAT?"
At this point I can hardly get the words out.
me: "uh uh uh, I just WON!"
bro: "NO!  Really?"
me: "Ha ha ha ha ha!  I JUST WON!  I CAN'T BELIEVE IT!  hee hee hee hee.. Whoooo hoooooo!  Ha ha ha ha!! Holy COW, I just WON!  Me and you bro, we are going to Miami!!!"
bro: "I can't believe it!  That is just crazy!"
And that's how it happened.  I truly believed it would be just another day and as it turned out, by the end of the day my face hurt from my perma-grin!
My Dad had tickets to the Daytona 500 for 30 years.  He had seats right behind the flag tower.  Every year for 30 years he took a month off and drove to Daytona in his RV and parked in the motorhome lot in turn 2.  I have had the privilege to go to the Daytona 500 7 times (including my favorite year, 1998, the year John Elway got his first Superbowl win and the year Dale Earnhardt finally got his coveted win).  There was a few times that my Dad and I were able to get "up to" the garage, but never have I been "in" the garage. Unfortunately, due to many reasons, my Dad gave up his tickets after the 2008 race and I was able to go for the last time with my Dad.
One time when the Busch series was racing at Pikes Peak Speedway in Colorado Springs, an old racing friend and I jumped the fence and got to walk around the garage area.  At the time, Dale Earnhardt Jr and Matt Kenseth were the stars of the series.  I got real close to them, but I was so nervous because we had snuck in, that I just kept real quiet and out of the way.  So this experience, as I see it, will be a chance of a life time.
I grew up with racing in my life, in fact, I'm quite sure I heard engines fired for the first time in my Mama's belly.  My Dad started racing late model stock cars in 1965 at a local track named Englewood Speedway.  I was just a little girl always going crazy in the stands for my Daddy. His number was 222 but only because the track kept making him change his number each week from 22 to 222.  Dad said, "Oh the hell with it, I will just be 222 from now on"   That track had the craziest characters and the funniest stories I have heard.  The funniest story  that is always re-told about my Dad is the timing light story.   The owner of the track just put in a new fancy state of the art timing light.  My Dad was the first one on the track that day to do hot laps.  The car was not handling good and low and behold, Lynn Jones loses control and hits the brand new timing light.  The owner of the track was just like "Jesus Jones!  I just bought that!" All my Dad could do was laugh!
In 1978 my brother, Mark, started racing late models at Englewood as well (His number was 22 and they didn't make him change it!).  He built his car from scratch, all by himself and it was a beauty.  He and my Dad raced each other hard and it was difficult for the daughter and little sister to figure out who to cheer for.  So I just cheered for both and hoped for the best.
Unfortunately, what was once a great speedway in an undeveloped area in the '40's and '50's, became a nuisance (according to the Environmental Protection Agency) in the late '60's and '70's as housing and businesses swallowed up the surrounding area around the site. Continuous noise complaints and the mid '70's energy crunch didn't help matters either, and soon the land that Englewood Speedway sat on became too valuable to be used as a racetrack just two nights a week for five months out of the year. All of the divisions were increasingly waning and becoming more expensive to run, as the car counts became low during the '78 and '79 seasons.  So in 1979 Englewood Speedway closed for good.
The closest track in town was Colorado National Speedway, about 30 miles north of Denver.  It was a fantastic dirt track, so the Joneses decided to go dirt racing.   That was some of the best dirt track racing I'd had ever seen.  Dad and Mark had ball at that track racing against a really great bunch of guys, including the current team manager of the 78 Furniture Row Joe Garone.  There was a late model team we called the Gorilla gang because every guy on that team were HUGE!  So huge the only clothes big enough to fit them were overalls.  And the Joneses experienced their size up close and personal a few times! I can remember my brother at 5'8″ standing on the trailer and still looking up at them and sayin' "Oh yea!!" Hilarious!
In 1989 a local racer by the name of Jim Opperman bought Colorado National Speedway and paved it.  It became a compound banked 3/8 oval asphalt track, and quite a beauty I might add.  In the same year, my Dad let me drive his Late Model Dirt car in a powder puff race at a track in Fort Morgan Colorado.  After that race, there was no way I wasn't going to be in a car the next year.  So with my Dad, we went and bought a Super Stock from a wonderful man named Buddy (a paraplegic who, yes, modified his cars that allowed him to race them! RIP Buddy. You are missed!).  So in 1990, I made my rookie debut as the only female driver at the track (driving the number 2! The progression seemed fitting!).  My Dad decided to forgo his racing to help my brother run a Late Model at the new asphalt track.  So there we were, all together, my Dad, my brother in a Late Model and me in a Super Stock.  It was just priceless.  That year was rough for me though.  So many crashes that the my front fenders looked like spaghetti noodles and barely fit the car. The male drivers hated it when I passed them and I could usually get the position on them because  they were so busy being mad.  Then I usually went spinning courtesy of the ego busted driver.  But the next year, I had a car built by one of the best car builders in the state, Jerry Robertson.  Jerry once roomed with Ernie Irvan and I believe he really could have made it to to the big time if not for personal reasons that returned him to Denver.   Anyway, as the years went by, my cars got better, I got better and I was able to gain the respect of the the other drivers.
Those years were the best years of my life.  Racing is such a high, such and adrenaline rush that when you quit, it is so hard to replace.  I stopped racing in 1995 after a final crash ended it for good.  I didn't get hurt, I was just broke and my pit crew was tired.  I planned on getting back into it, in fact, I still have a complete car in my back yard and a never run engine in my garage.  But life took me down a road that never got me back on the track.  My brother was in a horrible crash that destroyed every piece of his beautiful Late Model and sent him flight for life to the hospital.    Racing got so expensive at CNS due to big racers with big money that raced weekly,  like Rick Carelli, it got hard to compete.  So as such, Dad was too old to race, my brother was broke and so was I.  Nothing has been as exciting as those years …..until….I WON GARAGE PASSES TO MIAMI!!!!
I can't Thank the 19 team, Elliott Sadler and Brett Griffin enough for this experience.  How cool are they to give away such an awesome prize!! I will be taking lots of pics and will post them when I get back.  My brother Mark will be attending with me  and my Dad is just tickled over the whole thing.  Look out Miami, here we come!