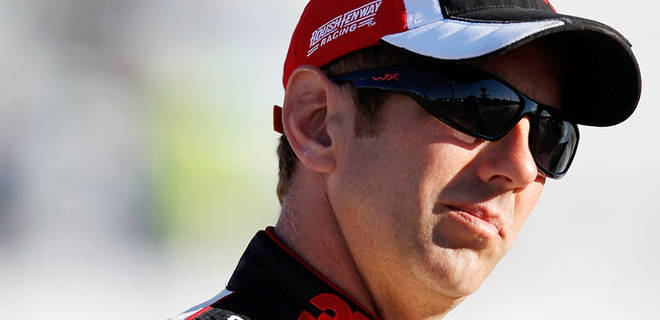 Biffle ran away  from the rest of the field in winning the Price Chopper 400 — the third race in the Chase — by 7.638 seconds in front of Johnson, who rallied from his 21st starting position to claim the runner-up spot.
"This is a big win for us," Biffle said in winners circle, "Ford has been helping us so much and our car today was flawless.  We were a little loose at first and I was hesitant to make any changes, then we finally put some wedge in it and it tighten up and just took off.  We just have to do the best we can do and I think today we did. "
The 48 car performed exactly like a 4 time championship team, working on their car every pit stop and came away from Kansas with the Championship point lead.   "Getting the points lead is awesome," Johnson said, "We really had a fight against a bad qualifying position.  The key for us is to make bad races into good races.  I'm really satisfied with the finish we got."
The 400 miles were fairly uneventful with mostly single file racing and difficult passes.  The talk of the week will be David Reutimann and Kyle Busch.  On lap 52 we saw the second caution of the day when Kyle Busch rammed Reutimann in the rear sending him spinning.   Kyle claims it was an accident, however, David didn't see it that way.  The 00 car worked on his car all day and being laps down, took his chance at retaliation on lap 154 hitting Busch in the rear of the car, then spinning himself.  However, that hit was good enough to bend everything in the rear end of Busch's car.
"I'm going to put it this way: I don't care if you're in the Chase or not, you need to think about who you're running over when you're running over them," Reutimann said. "I don't care. If you're in the Chase, you have as much of a responsibility to drive guys with respect as I do with everybody else. I don't know what to tell you guys. If you guys want me to feel bad about what happened [Sunday], yeah, I feel bad our car got wrecked and it ruined our day. That's what I feel bad about."
In the immediate aftermath, Busch was furious. "I have a serious problem with what just happened," he radioed his team. "I don't think anyone in the tower is going to do anything about it. And if they don't, we're going to have a meeting about it." Afterward, though, there was no summons to the yellow and white hauler. NASCAR, according to a spokesman, planned no action. Busch's car owner, Joe Gibbs, said he planned no protest and that he hoped the two Toyota teams would eventually work it out among themselves. Busch spoke briefly to the media and then left the track without stopping to voice any complaints to NASCAR.
"I thought about it more. Whatever," Busch said. "It's just really unfortunate. These guys work their butts off to put ourselves in the Chase, and have the opportunity to go after a championship, and to have it end up like something like that …. The guy was loose, he said it on the radio, he slid up off the bottom and I slid into him unintentionally and spun him out. My fault, 100 percent. But then the retaliation, to a guy who's in the Chase and is racing for something …."
The resulting damage sent Busch to a 21st-place finish, and dropped him four places in the standings.  I guess Kyle will think twice about bumping someone, especially when running in the Chase.  Kyle's boss, Joe Gibbs, tried to talk to him after the race, but Kyle pulled away abruptly and walked off.  Isn't that insubordination?  A person should really think about their actions when talking with the boss.  I guess Joe has a lot of patience because Kyle is a superstar in a race car.
Busch and Reutimann are suddenly building up something of a history, one that became very public earlier this season after the night race at Bristol — where Busch and Reutimann finished 1-2, and the winner essentially questioned the runner-up's ability behind the wheel. In an interview on satellite radio shortly afterward, Reutimann revealed that the two drivers rarely saw eye-to-eye. "It all comes down to, we don't like each other very much," he told Sirius.
Championship Points:
1. Jimmie Johnson    5503
2. Denny Hamlin        -8
3. Kevin Harvick    -30
4. Carl Edwards        -53
5. Jeff Gordon        -58
6. Kurt Busch        -70
7. Kyle Busch        -80
8. Greg Biffle        -85
9. Jeff Burton        -101
10.Tony Stewart        -127
11.Matt Kenseth        -149
12.Clint Bowyer        -252