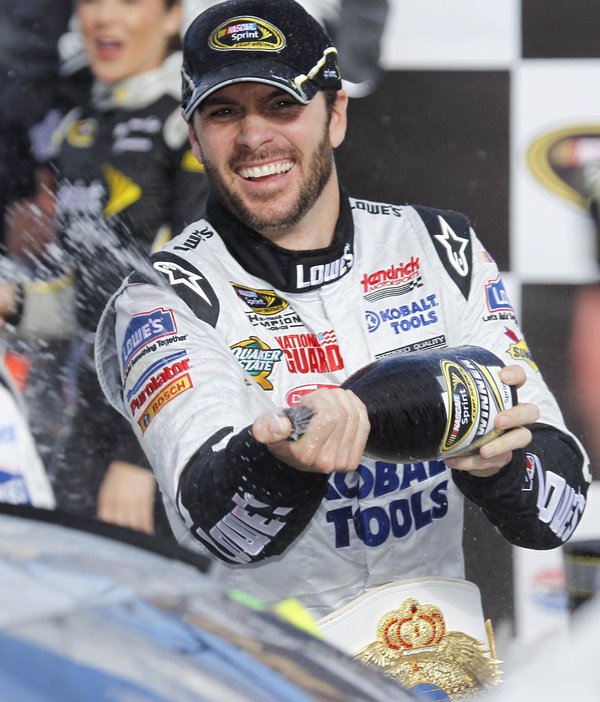 Jimmie Johnson won the AAA 400 at Dover International Speedway, pulling off a maximum point day by leading 191 laps.
"This feels great", Johnson said, "last week didn't turn out like we wanted it to, but that always seems to happen in the chase.  I am so proud of Hendrick Motor Sports.  They all work so hard and it feels real good to rebound from last week."
Rick Hendrick said of his driver, "The 'man' knows how to get around this track!"
Dover is a track that is extremely hard to pass on which entertains only single file racing and track position is the number one priority.   With that said,  the race was not highly entertaining.  There were 4 cautions, 2 being for debris, 1 for the track light and 1 for the David Reutimann when he got into the wall.    I heard a lot of complaints on the radio about the tire Goodyear brought and how much rubber it was laying down.    The tire didn't seem to be a match for Dover's concrete surface.
The biggest surprise of the day was A.J. Allemdinger.  He lead 142 laps until he got a hole in his right rear tire and had to pit.  He went a lap down but was able to battle back and get a top ten finish ending up 10th.
Jeff Burton was the best of the RCR cars today, pulling out a second place finish.  Joey Logano came in third followed by Kurt Busch, Carl Edwards and Kyle Busch.
During the race, the announcers made a lame attempt to make the race interesting, by baiting  a confrontation that would have never happened, between the 29 and 11.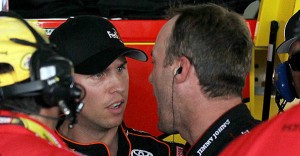 I mean come on, Harvick already made his point and why make a move during the race when you know NASCAR is watching.  Head Game Master Harvick is way smarter than that.   If you have been under a rock, here is a link to the story.  NASCAR will hear the RCR/Bowyer appeal on Wednesday Sept. 29th.  I wouldn't hold your breath though, NASCAR rarely overturns its rulings, however RCR could hope for a reduction.
The 3rd race in the Chase is at Kansas Motor Speedway Sunday October 3rd at 1pm ET.
Unofficial points standings:
Denny Hamlin            5368
Jimmie Johnson       -35
Kyle Busch                  -45
Kurt Busch                  -59
Kevin Harvick            -65
Carl Edwards             -73
Jeff Burton                  -80
Jeff Gordon                 -83
Greg Biffle                    -140
Tony Stewart              -162
Matt Kenseth              -165
Clint Bowyer              -235