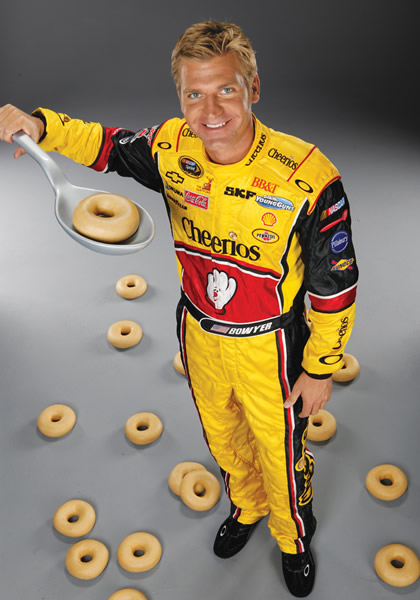 Clint Bowyer leads 176 laps and stretches his fuel farther than Tony Stewart's and takes checkers at New Hampshire.
"When I'm having fun, I'm always performing at my best, and I think it showed this weekend.", Bowyer said, "I could tell by Shane's voice that I needed to start saving fuel, and I did that.  I thought I did.  He told me I needed two laps, so I was thinking about four (laughing)."
It was Bowyer's third win in the Cup Series and first since Richmond in 2008.  His first career victory came under similar circumstances. After sneaking into the Chase, Bowyer won the 2007 race at New Hampshire to cement himself a championship contender.  This win catapults him from 12th in the points to 2nd in points, 35 points behind Denny Hamlin.
Tony Stewart led 99 laps and was leading with 2 laps to go when he ran out of fuel.  "We went down swinging, that's for sure.", Stewart said, " It's hard to lose one that way. That's a tough way to start the Chase.  I think I ran us out"
Dale Jr had his best run since his 4th place finish at Daytona in July.  He ran in the top ten most of the day, had 2 pit stop issues and was still able to pull out a 4th place finish today.
"It felt like we had a top-10 car, and we had the jack stop break and had to go to the back, and then a mis-communication with the No. 78 (Regan Smith) that cost us half a lap under green—just battling back from that stuff," Earnhardt said.  "We had an eighth-place finish last time (at New Hampshire) and felt like we were really fast and competitive all day long. We can't qualify very good here, but once we get in race trim, we just kind of go to the front or get near the front."
The radio exchange between Lance and Jr got a little heated around lap 155.   Junior radioed that after the pit stop the car is real loose on breaking and everyone is driving under him.
Lance replies:
Just get in a rhythm buddy.  We'll work on it, but you just need to get back into your rhythm.
Jr:
I'm in a fucking rhythm, what do you think I'm doing?
Lance:
You need to calm yourself down and straighten your attitude out.
Jr:
How do you know what to fix if I don't talk buddy!
The radio got real quiet after that until lap 170.  Jr. comes on the radio with a weirdly calm tone in his voice and reports that he thinks there is an issue with the car under breaking and it has gone on for a few weeks.  Lance comes back with a 10-4 and Jr. continues to explain himself, but the tone now sounds defeated.
I'm still on the side of getting a new crew chief for Junior, even after today's run.  I'm sure Lance did the right thing by telling his driver to calm down, however, I don't think Junior was getting that uptight.  Yes, he had a little frustration in his voice, but I think I would too, especially after last weekend's debacle.  So I think Lance telling Junior to calm down at that point, would be really irritating and frustrate the driver even more.   Junior was diggin' today and it showed.  It was nice to see him get a top 5 finish.
Overall, the race was good.  For me, races at New Hampshire are usually a little dull, but today there seemed to be a lot of Chase desperation.  Denny Hamlin was spun by Carl Edwards after Edwards slipped trying to get under him.  Kurt Busch and Jeff Burton touched causing Kurt to spin, then his brother Kyle bumped Jimmie Johnson while trying to avoid his brothers wreck, causing both the 18 and the 48 to spin.  Keselowski tagged Matt Kenseth causing him to hit the wall.   The 48 team ended up a disapointing 25th, giving them a new challenge to try and win 5 consecutive Sprint Cups.
Points after today's race:
Denny Hamlin     5230
Clint Bowyer        -35
Kevin Harvick     -45
Kyle Busch            -62
Jeff Gordon           -75
Kurt Busch             -86
Jimmie Johnson  -92
Carl Edwards          -95
Greg Biffle                -108
Jeff Burton              -112
Tony Stewart         -124
Matt Kenseth         -136