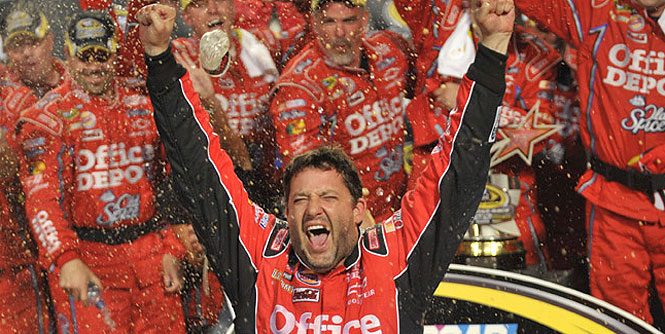 Tony "Smoke" Stewart takes his first win of 2010 and erases a 31 race win drought with a dominant run all day in the Emory Healthcare 500 at Atlanta Motor Speedway.
"Ring the bell baby!!" Smoke said on the radio while crossing the finish line.
"I didn't hit a restart all night until the last one!", said Stewart, "Golly, what a night, I am so proud of these guys.  They got me track position at the end, cuz man, when you're in dirty air, you go nowhere.  I want to dedicate this win to my buddy Eric Saunders.  He got hurt on a motorcycle and he is recovering in Indiana…Eric, this is for you.  I have never been more happy for a win in my life!!"
Carl Edwards was able to pull a second place finish, followed by Jimmie Johnson, Jeff Burton and Kyle Busch.
Stewart and Hamlin were the dominate cars the whole first half of the race.   Kyle Busch ran into trouble after the first green flag pit stops, getting penalized for going too fast on pit road.   Twenty laps later, Kyle Busch had to pit out of sequence for a loose wheel.
The second caution of the day was thrown for Denny Hamlin who had broke his motor.  "Well, I saw the 20 car off the pace," Hamlin said, "where one is bad, the 11 always seems to follow.  I was just pacing, having fun, so now we just have to stay positive and if we keep it together, we will be a threat to win the championship."
The restart on lap 151 saw Greg Biffle in the 16 car move down on Ryan Newman causing Biffle to spin.  The 19 car of Elliott Sadler was unable to turn around his bad luck, getting hooked by the spinning 16 car and hitting  the wall,  ending his night.  Sadler was evaluated and released from the infield care center without injury.
On lap 253 the fifth caution of the day was thrown for Kevin Harvick.  Harvick was trying to pit under green, but could not get slowed down for the pit entrance.  He ended up flat spotting his tires and before he could get back around, blew the left front tire.  The 29 team pitted several times to try and repair the fender.  A wierd scoring issue occured during this time where Harvick was 1 lap ahead of the entire field.  Not really sure how that happened, but they had to hold Harvick for 1 lap to catch the rest of the field up.
Stewart had a hard time with spinning the tires on the restarts.  On the radio Stewart said, "I'm sorry guys.  I've tried everything to keep from spinning my tires.  I've got one more trick in my bag, but I don't know if it will work."
A restart with 26 laps to go resulted with Ryan Newman bumping the back of Kasey Kahne sending him into Kurt Busch and cutting his tire.  A lap later the last caution of the day was thrown for debris from Kahne's car.  On lap 322 Kahne showed his displeasure with Newman by bumping him back under green.
Dale Earnhardt Jr. ran most of the day in the top 15 fighting a loose car the entire time.  They tried pitting on the last caution, which only resulted in him losing track position, miring him back in traffic and getting a dismal 22nd place finish.
Ten drivers have now clinched spots in the 12-man Chase for the Sprint Cup championship going into the final race before the playoff begins, led by points leader Kevin Harvick.