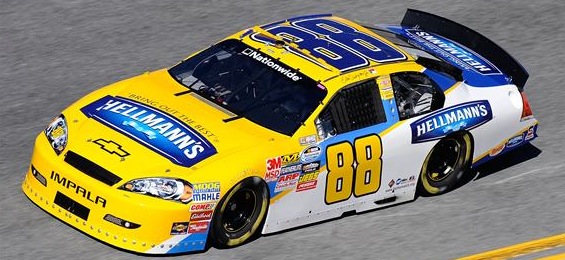 Jamie McMurray in the JR Motorsports No. 88 was able dominate the last 40 laps of the Great Clips 300 at Atlanta Motor Speedway and robbing  Kyle Busch from getting a historic win.
"We unloaded today and had pretty much the fastest car off the truck," McMurray said. "It was just pretty loose, and we just did a really good job of adjusting on it.  At the end Pops adjusted on it, and it was pretty fast, even on the short runs."
Busch, trying to become the first driver in the 28-year history of the Nationwide Series to win 11 races in a season, fell short in his late attempt to catch McMurray.
We just didn't quite have enough there on short runs to keep up with them," Busch said. "Once we got about 25 or 30 laps on (the tires), we could really start reeling them in and pass them. Typically, it's always a long-run car that wins here—Harvick beat me last year with a long-run car—but that wasn't the case tonight."
Carl Edwards finished third followed by Kevin Harvick, Matt Kenseth and Joey Logano.
Ryan Newman got into the back of Trevor Bayne on the backstretch to cause the third caution of the race and bunch the field. McMurray was first out of the pits under caution and led the field to a restart on lap 153.
Pole-sitter Kasey Kahne was in the top 10 after the third caution before his hopes of winning ended when a problem with his right front fender forced him off the track. He was three laps down when he left pit row and finished 19th.
Reed Sorenson's day ended with his nose-first crash into the wall, forcing the final yellow flag that set up McMurray's decisive move. Sorenson was checked and released from the infield care center.
Series points leader Brad Keselowski finished 12th, and the Penske Racing driver has a 332-point lead on Roush Fenway Racing's Edwards with nine races left in the season.