This weekends race takes us to the 1.54 mile quad oval of Atlanta Motor Speedway.  This track always provides high speeds, high drama and exciting finishes.
Kevin Harvick's 2009 run netted him 2 top 5 finishes and a 9th place finish in March.  Look for him to redeem himself from the 29 team's lack luster performance at Bristol.
Kyle Busch had a great 2008 season here with a win and a 5th place finish, but 2009 wasn't so great for him nor was his 25th finish here in March.  A strong finish Sunday sends a strong message.  A weak finish casts doubt that the No. 18 team is championship material.
In his past three starts on intermediate tracks,  Denny Hamlin has a win, an eighth and a second. But Hamlin is winless since that victory at Michigan in June with three finishes of 34th or worse. That kind of wild inconsistency will sink him in the Chase. He has three top-10s in 10 starts at Atlanta.
Juan Pablo Montoya has 2 third place finishes in his last two races here and has scored top-10 finishes in the past three races, his longest current streak.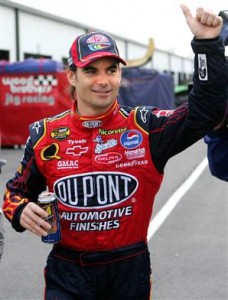 My pick this week to win the race is Jeff Gordon.  Gordon finished 18th in March for only his second finish outside the top 10 in the past five years.  I look for him to break the pattern of great finishes, but no wins this year.  However, he is a four time winner at Atlanta and I pulling for him to break the losing streak.
The Nationwide race will be aired at 6:30 p.m. ET Saturday on ESPN2and the Sprint Cup race will be aired at 7:30 p.m. ET Sunday on ESPN.   Enjoy!!