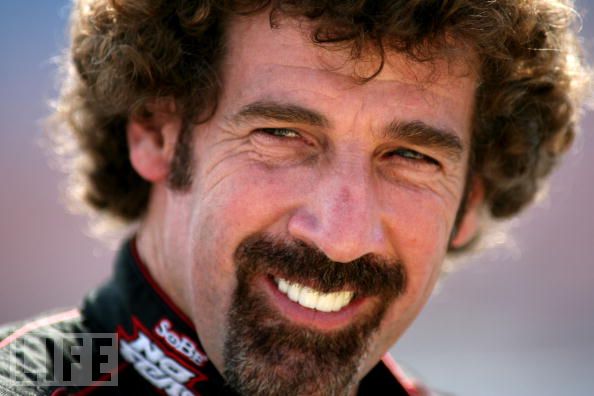 Boris Said steps out of his car in Victory Lane and says, "FINALLY!"  Boris was able to beat Max Papis to the line to win the NAPA Auto Parts 200 at Montreal.
"This is unbelievable", Boris said, "I've been trying to get one of these for so long.  It was all about brakes today and mine were great.  It was good clean racing with Max [Papis] and he is such a good guy.  Unbelievable."
On last restart of the day (a green-white-checker), Boris was able to get the hole shot and come out with the lead by the first corner.  Shortly after that Robby Gordon, who was the leader prior to yellow flag, ran out of gas.
Jacque Villeneuve and Max Papis tangled for second with Papis prevailing, but that allowed Boris to stretch his lead.  On the last lap, Papis caught Boris and pulled a remarkable move to get by him, but Boris was able to cross over and get door to door with Papis.  It came down to a bumber lenght at the start/finish line.
"I first want to say congratulations to Boris", Papis said, "He really deserves it.  The car was super fast, I did all I could do.   This just shows what I can do in a good car."
Marcos Ambrose, who was the class of the field all day and was sure to be destined for Victory Lane, was heart broken after a battery failure.   A lengthy pit stop to try to change the battery put Ambrose 2 laps down.  When Ambrose returned to the race, a track bar broke and ended his day for good.
"We gave it a shot", Ambrose said, "Either a battery or an alternator laid down on us.  We got hit, then the car just quit running and we broke the suspension.  I keep trying to get to Victory Lane, but it just didn't work out"
Boris Said is credited with the win, followed by Max Papis, Jacque Villeneuve, Brad Keselowski and Paul Menard.
The first hour and 20 minutes  of the race were spent mostly under yellow.  The longest green flag stretch during that time period was 2.5 laps.  The yellow flags seemed overly long but a few of them required oil spill cleanup.  I started to wonder if BP was in charge of track cleanup!
Steven Wallace, who was running in the top 10,  was spun by Ron Fellows on lap 19.  Wallace pitted for tires, but shortly after broke a motor. "I don't know what happened", Wallace said, "He [Fellows] is supposed to be a world class road racer, but I saw him all over the place, hittin' curbs.  I just got turned around and it ended our day"
Superstar rookie Trevor Bayne showed the Nationwide regulars how to run with those "road course ringers" and Cup drivers.  He ran in the top 10 all day and his day was not uneventful.  He was spun out on lap 41, got caught up in a spin involving Jason Leffler on lap 68 getting front and rear damage and still was able to get a 10th place finish!  Great job Rookie!
Robby Gordon tried the fuel mileage game and it would have paid off if it wasn't for the g-w-c.  When his crew chief asked if they should pit, Robby said, "Stay out dude, lets win the race".   Unfortunately, that strategy didn't work.
Jacque Villeneuve finished well at the track named after his father.  However, I will say he wasn't as "smooth" as I thought he would be.  He did a lot of bumping and sliding and somehow his car stayed intact.
"Car was quick", Villeneuve said, "I thought I had Papis, but the car just wasn't as good at the end."
The last yellow of the day turned into the only red flag of the day.  Jason Leffler broke a motor and spread oil all over the track.  The red flag lasted 15 minutes, but the drivers, who had already been in the car for 4 hours, were hot and thirsty.  Max Papis backed his car up close to the guard rail to get shade and a bottle of water from a very nice fan.  Shortly after that, NASCAR officials handed out water to everyone else.
Overall, the race was good.  It started out slow….real slow, but ended up being a good door to door, bumper grinding battle of the road course super stars.