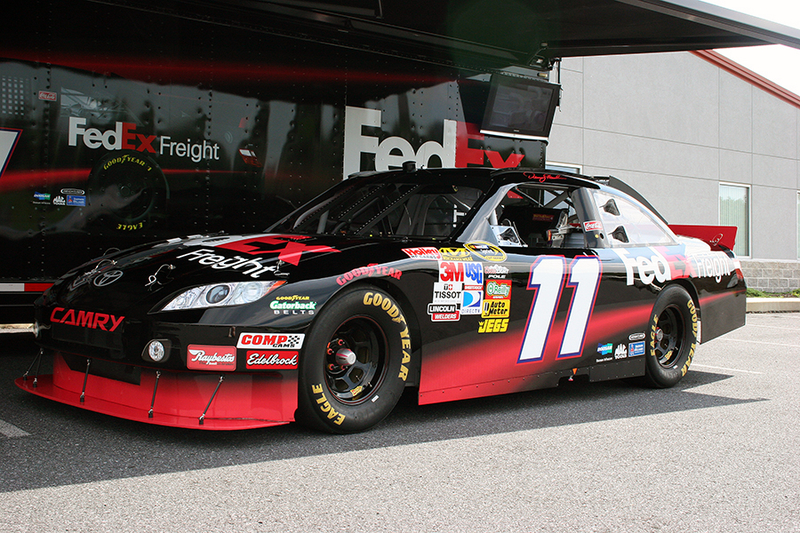 Denny Hamlin pulls out another win at Martinsville closing the gap in the Championship race to within 6 points.
"I don't think I have closed that good ever.", Hamlin said, "We did not have a winning car today.  Our pit crew got me from 6th to 3rd on that last stop and that's what did it.  "
Hamlin fell back at the beginning of the race after taking the poll position in qualifying.   His team opted to set his car up for the long runs as opposed to the short runs.  This strategy proved to be the right one when the end of the race turned into a long run.
Johnson on the other hand was set up for short runs.  At the beginning of the race I thought this was the best move.  I never thought there would be a long run at the end of the race.  "We were stronger on short runs and the 11 car got going there at the end.  It's ok, there is still a lot of racing to go." Johnson said.  When asked about being worried about Talladega next week, he said, "I'm not worrying. There's three races after that, and then we'll race like hell."
During the post race presser, Johnson talked about his battle with the 18 car, "The 18 worked me over pretty good, then the hitting started.  I understood that, he was just racing hard.  I did give him the one finger salute a few times to just let him know about my frustration.  We had a good talk after the race.  It's all good."
How about that 88 car!  Dale Earnhardt Jr. led 90 laps today.  No, that's NOT a typo..he LED 90 laps.  It was great to see Junior get a run like that today, however, I still don't think he and Lance have much chemistry.   One example of this on the radio went like this:
Jr – "We didn't make one fucking change and the car is tight"
Lance – "Just calm down and hit your marks"
Jr – "You hit your fucking marks! I'm hitting mine!"
Then after the race:
Jr – "Thanks everyone. Car just got tight there at the end"
Lance – "I will forgive you for yelling at me"
Jr – "Yea, I was gonna apologize, I just get busy in here. Guess it was shitty of me"
Really?  Lance needs to forgive his driver for running hard, sweatin' it out and being pissed that he is not in the top 5 anymore?!  Come on!  Get over it.  You should be happy your driver is up on the wheel wanting more.  After all, when Junior is at tracks that he must rely on handling he runs 20th and when he's at a track that it requires a driver to hustle it and really drive it, he runs top 10.  Hmmmm, could that be a crew chief issue?
Another wonderful thing to see was Mark Martin getting 2nd place after getting spinning early in the race.  "Alan Gustafson and the guys really kept us in it. ", Martin said, " That was a great day! I really needed that. That was so much fun. It was such a bad day. Running out of brakes at L30. Thought this was gonna be longest day of my life."
Team mates Kevin Harvick and Jeff Burton showed each other some love today.  Harvick and Burton were bumpin' and grinding each other while running up front, both blaming one another on the radio.  After the race when Harvick was asked about the incident, he said it was just racing.  However Burton said he will race Harvick same in future.  Could cookies and milk be store for these two?
Kurt Busch lost his head again today.  Last week he was so mad at his crew and the handling of his car he told them that he just feels like driving the car into the wall and knocking himself out. (Can you say "rubber room").  This week, he got infuriated because Jeff Gordon did a little bump and run.  So mad he came back and wrecked Gordon.  My question..does a bump and run constitute a take-out?  This guy needs some serious anger management.  After the race when he was told he was the random, his response was, "Yeah, I got the fucking random!"  His comments concerning the 24 incident, "Yeah, he shoved me in there and I shoved him back in Turn 4. Didn't mean to get into him that hard, but over the years with Gordon here wrecking the 97  and wrecking the 2 car, whether you're a current Kurt fan or an ex-Rusty fan, he's wrecked the 2 car a lot here."
Jeff Gordon's response to Kurt Busch, ""Why does that not surprise me that he said that? I think if we just let him talk, that's all that needs to be said. I probably made the move a little late and I got into him. It wasn't much, but I gave him enough of a reason from past history to retaliate. Or whatever thoughts he has, it sparked it. At that point, he was determined to wreck me "
At any rate, Kurt Busch ruined Gordon's day and pushed him farther back in points.  I would say the score card is NOT even.  Gordon owes one to Kurt.
On to next week at Talladega. Should be a humdinger!
Unofficial points standing:
1. Johnson    5998
2. Hamlin    -6
3. Harvick    -62
4. Kyle Busch    -172
5. Gordon    -203
6. Edwards    -213
7. Stewart    -236
8. Burton    -246
9. Kurt Busch    -277
10. Kenseth    -293
11.Biffle        -316
12. Bowyer    -406