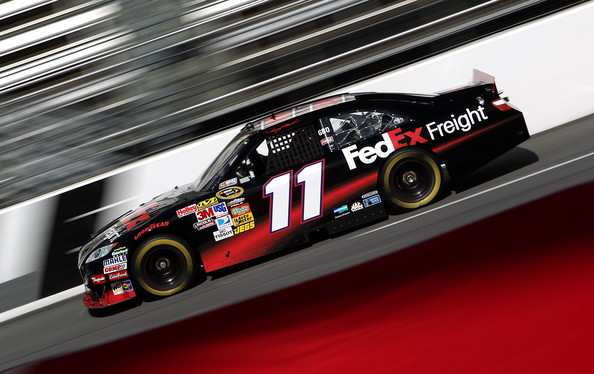 Hamlin dominated at Richmond on Saturday night and took home checkers along with the first seed in the Chase.
The race tonight was not one of the most exciting races of the year, with only 3 cautions, 6 leaders and 14 lead changes.  I was successful in taking a nice nap for 100 laps after the rain delay and un-surprisingly, didn't miss a thing.
Dale Jr had one of the worst races of his career.  When you are bottoming out in the first 100 laps, it's going to be a long day.  It made me think…why is Junior's car ALWAYS as bad as it can be on lap 1?!  You would think the car would be prepared better than that.  It was down right disgraceful and I put the blame, for this race at least, squarely on the crew chief.  Earnhardt stated that they decided to try a new package which comprised of  different rear springs and front spindles.  Well, I think we can safely say that it didn't work.  Mr. Hendrick, how bad does Junior have to run before he gets a new crew chief?
The chase line up is now official.  Seeded number one is Denny Hamlin, followed by Jimmie Johnson, Kevin Harvick, Kyle Busch, Kurt Busch, Tony Stewart, Greg Biffle, Jeff Gordon, Carl "Road Rage" Edwards, Jeff Burton, Matt Kenseth and Clint Bowyer.
So the 10 race sprint to the Cup Championship will commence next week at New Hampshire.  Will Jimmie Johnson make it 5 in a row!?  Jimmie "Chip" Johnson and Chad are the best in the biz.  You have to believe they want to make history and it will be in the other drivers hands to make sure it doesn't happen.