Kevin Harvick get's his third win of the year and his first win at Michigan in today's Carfax 400.  Harvick was haulin' the mail all day and after a decision to stay out after a late race debris caution, he passed Denny Hamlin with 11 laps to go.
"We were good in practice", Harvick said, "This has been a very bad track for us and it just shows where RCR is at in their program.  I want to Thank all the guys on this team for putting up with me!"
The number 29 team is the first and only team to clinch a spot in the Chase.  Denny Hamlin ended up with a second place finish, followed by three Roush-Fenway drivers Carl Edwards, Matt Kenseth and Greg Biffle.
It was a fairly uneventful day with only 5 cautions, the first for a blown engine in the #2 Kurt Busch car and the second for a light rain shower.  On lap 149, Joey Logano got loose under Ryan Newman,  tapping him in the right rear sending the 39 car sideways.  Newman was able to save the car, however, a semi-intense conversation happened between the two after the race including a light shove by Newman to Logano.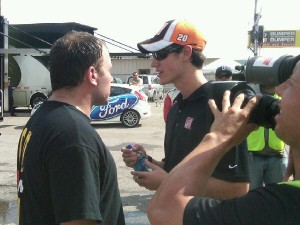 Ryan Newman declined to comment, but Logano said after, "I don't know why the 39 races everyone so hard.  Everyone says that and he's so hard pass.  He even races his boss [Tony Stewart] that hard.  I wish I could talk to him about it to figure it out."
On lap 154 a caution was thrown after Jeff Gordon lost a left front tire.   Gordon ended up in 27th place.  The entire Hendrick Motorsports organization had a tough day.  Their best finisher was Jimmie Johnson with a 12th place finish.  Mark Martin finished 28th after a tough day and being real aggressive at the start of the race which resulted in damage.  Martin said, "My team had to fix my mistakes but we're gonna go down swinging".
Marty Smith from ESPN was able to catch up with Dale Earnhardt Jr. after the race and asked him to assess his Chase chances, Earnhardt said, "I don't know, I don't really give a shit about it.  I'm just going home.  I busted my ass all day and I'm hittin' the house".  Junior finished 19th after struggling all day with an ill handling  car.
Denny Hamlin surprised me as I didn't really notice him until the last restart, but he pulled  out a second place finish.  "It's a win or nothing for us", Hamlin said, "Its kind of what we need though to get us back in the swing of things".
Interesting facts:
The last time Kevin Harvick won a race on a track at least 2 miles long with an unrestricted engine? Indianapolis on Aug. 3, 2003.
RCR last won a race at Michigan in 1990 with Dale Earnhardt.
Saving Abel does a an earsplitting performance of the National Anthem today.  They couldn't carry a tune if they had a bucket with a lid on it!
Click here for unofficial race results.
You can find the unofficial point standings here.