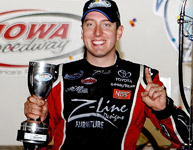 Today's Nationwide race took place at "Rusty Wallace's Signature Series Track" Iowa Speedway to a sold out crowd. I have to say, I really love this racetrack. This 7/8′s oval with it's compound banking provides fantastic side by side racing and a groove for everyone. I would love to see this track get a Cup date and would love to see more tracks like this one on the Cup schedule.
Trevor Bayne had another strong day by having several side by side duels with Kyle Busch. Bayne started the race on the pole and became the youngest driver in series history to win three consecutive poles.
However, even without any practice Busch was dominant all day and in the end led 209 laps. The last pit stop came during a yellow with 47 laps to go. Several drivers including Kevin Harvick, Jason Leffler and Justin Allgaier took two tires and Busch took four. Kevin Harvick led the race until 25 to go when Busch took over the lead for the final time.
I really like these cars," Busch said. "It's fun, man. I've really grown accustomed to these things and have learned how to drive them. You can really drive the Nationwide cars hard because they don't have a whole lot of horsepower, so you can really try to make up a lot by being able to get more out of the car, driver-wise.
Several teams including Reed Sorensen, Colin Braun, Brian Scott and Mike Wallace struggled with losing right front tires. Goodyear was consulted and their conclusion was excessive break heat was causing melted beads.
Results:
1 Kyle Busch
2 Kevin Harvick
3 Jason Leffler
4 Brad Keselowski
5 Trevor Bayne
6 Steve Wallace
7 Michael Annett
8 Justin Allgaier
9 Matt DiBenedetto
10 Carl Edwards
11 Josh Wise
12 Shelby Howard
13 Michael McDowell
14 Ricky Stenhouse Jr
15 Drew Herring
16 Paul Menard
17 Mike Bliss
18 Steve Arpin
19 Joe Nemechek
20 Jeremy Clements
21 Kenny Wallace
22 Blake Koch
23 Robert Richardson Jr.
24 John Wes Townley
25 John Borneman III
26 Jason Keller
27 Tayler Malsam
28 Mike Wallace
29 Tony Raines
30 Brian Scott
31 Brendan Gaughan
32 Colin Braun
33 Brian Keselowski
34 Mark Green
35 Morgan Shepherd
36 Reed Sorenson
37 Kevin Lepage
38 Danny O'Quinn Jr.
39 Brad Baker
40 Tim Schendel
41 Chase Miller
42 Dennis Setzer
43 Jeff Green