Michigan International Speedway,  nestled in the lush Irish Hills of Southeastern Michigan,  is the host to the Sprint Cup and Nationwide series this weekend.  This track is a D-shaped oval with a tw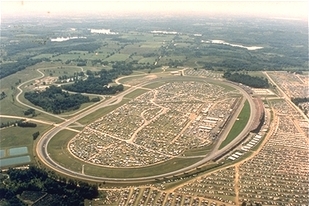 o mile circumference with speeds upwards of 190 mph.
Look for all of the RCR cars to be good here.  All three cars (29,31,33) qualified in the top ten today and points leader Kevin Harvick needs more wins before the points are re-set for the chase.
I know I keep talking about Juan Montoya, but I have to say his team is really on a roll.   He was fast in practice and pulled out a fifth place qualifying run today.   I think we will see him get a top five finish Sunday.
Jimmie Johnson has the best qualifying position of all the Hendrick cars with a second place start.  Mark Martin starts 12th, with Jeff Gordon and Dale Earnhardt Jr.  having to battle from the back from 36th and 38th.
My pick of the week i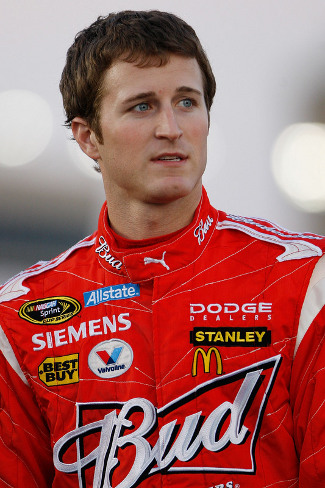 s Kasey Kahne.  He will start on the pole in Sunday's race and had great run here in June nabbing a 2nd place finish.  As long as his luck holds out, I think he will be visiting victory lane.
Big announcements this week:
1. Kasey Kahne will drive for RedBull in 2011.  It has not been announced if there will be a 3rd RedBull team or if Kahne will replace either Brian Vickers or Scott Speed.   With Brian Vickers health uncertain and Scott Speed's lack luster performance, it is a possibility Kahne will fill one of those spots.
2. Budweiser will go to RCR and the 29 team for 2011.
3. RCR will also add a fourth team with Paul Menard and his sponser Menards in 2011.
4. Jeff Gordon and his wife Ingrid had their second child on Monday.   They welcome a baby boy named Leo Benjamin Gordon who weighed 7 pounds, 2 ounces and was 19 inches long.
5. Jack Roush was released from the hospital this week and is in Michigan today.
6. Kevin Conway, the leading 2010 Cup Series rookie of the year driver and ExtenZe Racing announced Friday that they are suspending their program with Front Row Motorsports with Yates Racing effective immediately.
7. NASCAR has made several tweaks to its 2011 schedule so far, including adding races in Kansas and Kentucky and moving the Chase opener from New Hampshire to Chicago.  In addition California and Atlanta lost one of their dates.