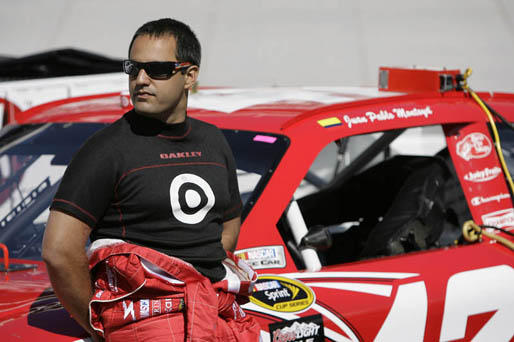 Juan Pablo Montoya won today's Heluva Good! Sour Cream Dips at the Glen breaking an 113 race losing streak.  Montoya was in a class by himself, however Marcos Ambrose was his biggest competition all day.

"It's about time," Montoya said. "We've lost a lot of them, gave away a lot of them. It gets frustrating, everybody fighting."
Brian Pattie crew chief for Montoya was quite emotional after the race.  "It's huge," he said, fighting back tears. "I still want to win on an oval.   He wants to prove his point.  The Brickyard was my fault.  Hope this makes up for it. Trophies mean a lot.  It's pretty cool."
By lap 20, Montoya had opened up a six second lead on the field.   A.J. Allmendinger was behind him, with Marcos Ambrose up to third.  Pole-sitter Carl Edwards was  fourth, and Jamie McMurray was fifth.
Ambrose was able to take over the lead on lap 40, however a yellow flag two laps later bunched the field again.  When the green came out, Montoya took the lead again after Ambrose was narled in a three wide battle with Kurt Busch and A.J. Allmendinger.
"He's driving a great race," Ambrose said of Montoya during the caution. "He's really hard to pass. It's going to be a big battle. I'm going to see if I can force him into a mistake. I just want to be clean until the end."
The last yellow flag occured right after a green flag start on lap 70 when Jimmie Johnson spins out, and collects Denny Hamlin after he hits the wall.  Montoya never looked back after the final restart and pulled out to a extensive lead over Ambrose.
Ambrose was disapointed that Kurt Busch was able to get by him for second place in the closing laps of the race, "It hurts," he said. "It doesn't feel nice."
Tony Stewart sent Boris Said spining on lap 66 after Said crowded Stewart off the track. "Idiot," Stewart said on the radio, "he tried to run us off the track and I'm going to hold my line!"
Surprise of the day: A.J. Allemdinger.  He ran in the front all today showing strong moves and his road course prowness.
Driver who had the best day without winning: Kyle Busch.  He had to start dead last as he had wheel issues before the race even started.  He was able to race through the field and ended up finishing eighth.
Best radio chatter: Mark Martin, after hearing about Clint Bowyer's problems — "OK, cool. We'll try not to wreck this thing."