The Sprint Cup series will make their yearly pilgrimage to Watkins Glen International in New York for this weekend's race events.    This track is an 11 turn road course which changes elevat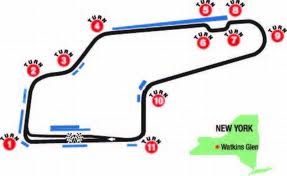 ion over 100 feet throughout the track.  The NASCAR series uses  the short  configuration which is 2.45 miles and drivers will battle this length for 90 laps.
Other series like Indy Car and Trans-Am use the long configuration of 3.4 miles.   Over the last few years,  my brother Mark has been quite vocal about the length of the races for the NASCAR series and the course they are using.  He made the point to me that in the old days you only had a handful of drivers that were really good on the road courses and the rest were going from ditch to ditch, so the races needed to be short.   But today,  all of the top drivers have done their homework, took classes and lessons  and are all quite good at the road courses.   This is why the "road course ringers" have never won a race.   So the conclusion is NASCAR drivers can handle the long course and the race needs to lengthened from 221 miles to at least 300 miles and you know what….I totally agree with him.
Tony Stewart has been the king of this racetrack winning 5 times since 2002.  Keep your eye on this guy because he is always good here and has posted 7 top tens in the last 8 races (5 of those being top 5′s).
Juan Pablo Montoya is always good on road courses as is Kyle Busch.  Another driver to keep your eye on, of course, is Jimmie Johnson.  He ran the Sahlen's Six Hours of The Glen in June (which is the long 3.4 mile course), so he's got some recent time on this track under his belt.
However, my pick of the week is Marcos Ambrose.  After his "saving gas" blunder at Sonoma earlier this year, I think he will be burning for this win.
Tune in to ESPN at 1pm ET on Sunday to see if I am right!