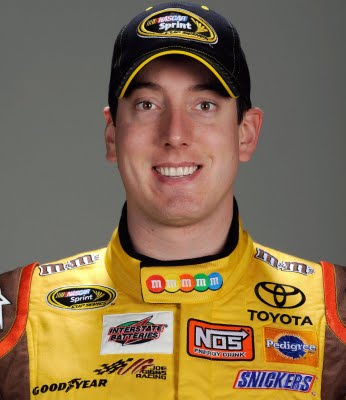 Kyle Busch wins the EnjoyIllinois.com 225 at Chicagoland Speedway and makes that 2 truck wins in a row.   Busch was able to hold off two late challenges from Todd Bodine, with Bodine being the only truck that could challenge Busch.
Bodine finished second and increased his points lead with eight races remaining.  Ron Hornaday, Johnny Sauter and Justin Lofton rounded out the top five.
The race came down to the final pit stop on Lap 125.  Austin Dillon tapped James Buescher into a spin bringing out the fourth caution of the night. Pit strategy changed the top five as the cars raced off pit road.  Busch pitted with the lead but came out sixth after taking four tires. Ron Hornaday became the leader with Johnny Sauter second and Austin Dillon third, all three taking two tires. Bodine came out fourth, beating the No. 18 off pit road, as the first car with four tires.
On Lap 335, Bodine made it up to second with Busch following  behind in third. On Lap 336, Busch was able to take both Hornaday and Bodine on the backstretch.  After Busch got loose, Bodine was able to reach Busch's bumper and ultimately get side-by-side with Busch.  But Busch was able to pull away with five laps remaining and hold off the No. 30 for Busch's 20th Truck Series victory.